Tussie-Mussies originated in the times of the ancient Greeks; when they would assemble a 'tussie,' knot of flowers, in a 'mussie,' moist moss to keep them fresh. In medieval times these garlands, also known as nosegays or posies, were composed of sweet scented flowers and medicinal herbs. The herbs were thought to ward off airborne diseases, such as the plague, while both the flowers and herbs helped to diffuse appalling odors. In the 16th century tussie-mussies were mostly used as decorative items; tucked into boutonnières or fitted bodices.
By Victorian times The Language of Flowers became widely practiced and tussie-mussies, still in high fashion, came to be known as "word posies". Flower Language dictionaries aided in the translation of these tussie-mussies and were widely available.
The language of flowers spans the world of the ancients from Greece throughout Europe and the Aztecs of South and Central America.
Talking Bouquets
Today, Tussie Mussies give new meaning to the popular phrase, 'Say it with flowers." Through the language of flowers, they show us how God sends us messages everyday in the flowers and plants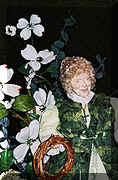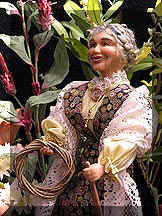 around us. They remind us that we are never alone, that He is always with us and all we need to do is open our eyes and see.